What is the purpose of your practice?
Awakenings Christian Counseling is a faith based healing center that offers a multi-disciplinary approach to Holistic Health.  It is our goal to offer a variety of healing practices to better serve our clients in a cluster setting which fosters a convenient, caring and coordinated effort to bring wellness in one space. As Christian therapists, we offer a Christ centered environment that meets the needs of our clients.  Everyone is on their own path and journey in faith.  Our ministry is to provide assistance at every level of our clients spiritual journey as we understand that as individuals, we are all at various stages. 
What do you believe?
Ultimately, our therapists believe that Scripture is God breathed and through the power of the Holy Spirit, we are called to practice our professions as stewards of our faith in Christ Jesus. We acknowledge and agree that the blessed Trinity of God the Father, God the Son and God the Holy Spirit are Three in One.  We also concur that through scripture and Christ's teachings, our ministries are made stronger through Him and are the foundation and basis for authentic healing to take place. So, we acknowledge that we are living in a broken world.  We do not judge or condemn anyone seeking our services as it is in this broken state that we are called to minister.  Meeting our client's needs comes first on various levels and we understand that even though we are focused on helping our clients meet their goals and objectives, not every client will meet their needs in our care.  At that point we would be happy to refer clients on so that the best possible care is given. So, regardless of where client's are in their faith journey, we will make every effort as professionals, to assure a positive experience.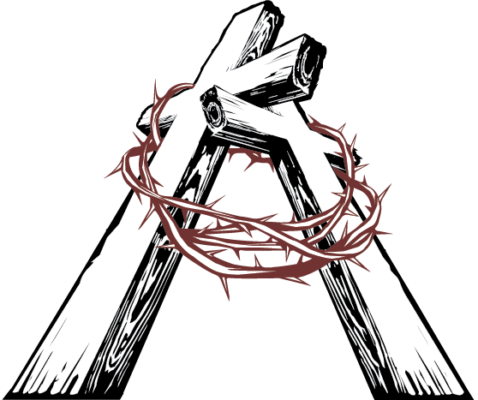 Meaning behind the Logo:
"He heals the brokenhearted And binds up their wounds."  Psalm 147:3
The picture reveals two crosses leaning against each other with the Crown of Thorns binding them together.  The meaning is significant in that we are all broken.  The image signifies what was left after the earth shook when Jesus took His last breath.
"And when Jesus had cried out again in a loud voice, He gave up His spirit.  At that moment the curtain of the temple was torn in two from top to bottom .  The earth shook, the rocks split and the tombs broke open.  Matthew 27:50-51.
The crosses of the criminals are seen leaning against each other to show that as sinners we are weak.  The Crown of Thorns embracing the crosses symbolizes Christ's love for us as He embraces our weakness and holds us upright.  It was in His crucifixion that He paid the price for our brokenness and claimed victory over Satan. The Crown signifies that He is King and only through His suffering are we made whole.